Disposable vapes have revolutionized vaping, providing simplicity and an array of flavors. Among the leading choices in this category is Flum, a brand known for its creative designs and delicious e-liquids. This article will take you on a delectable journey through the world of Flum's finest disposable vapes.
A Glimpse into Flum's Disposable Vape Collection
Flum is known for its commitment to providing vapers with a satisfying and convenient vaping experience. Their extensive range of disposable e-cigarettes caters to a wide array of preferences, ensuring there's a perfect fit for every vaper. Let's explore their five most popular models and the enticing flavors they offer: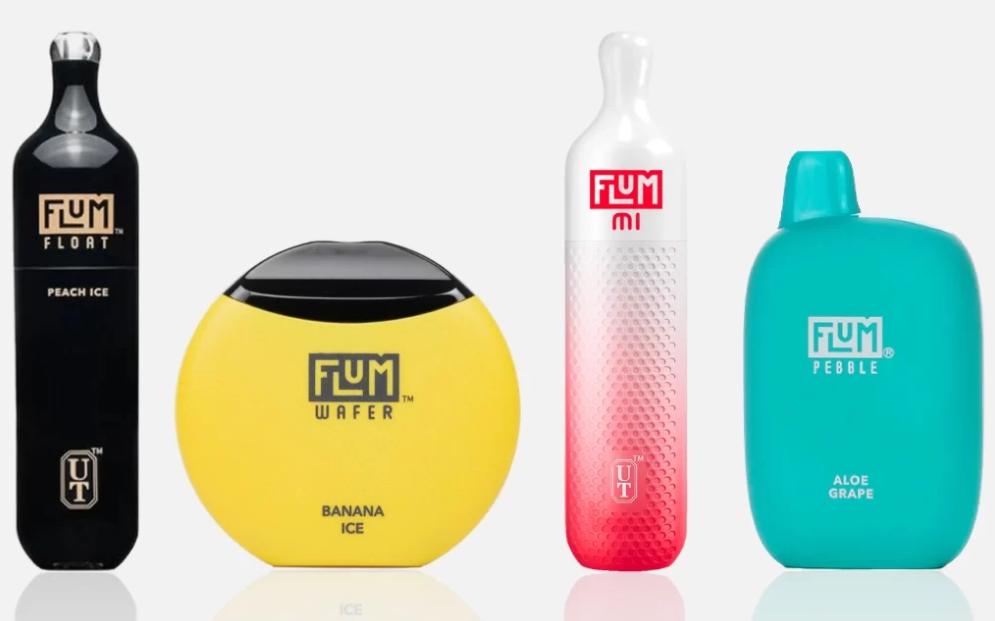 1. Flum Mi
Puff Count: 800
E-liquid Capacity: 5 mL
Nicotine Strength: 5% (50 mg/mL)
10 Flavors:
Aloe Grape
Strawberry Banana
Strawberry Mango
Strawberry Kiwi
Lush Ice
Peach Ice Cream
Pineapple Mango Peach
Red Apple
Mixed Berry
Cool Mint
The Flum Mi is a sleek pen-style device that packs a punch. With 800 puffs on a single device, it offers a satisfying vaping experience. What sets it apart is the array of flavors it offers, with 10 distinct options to choose from, including classic favorites and exciting new blends. While it features a non-rechargeable battery, its convenience and flavor variety make it a top choice for many vapers.
2. Flum GIO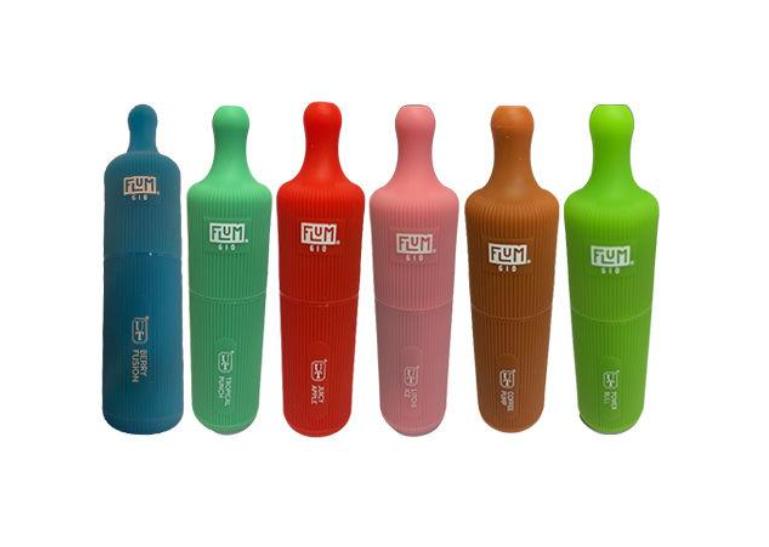 Puff Count: 3000
E-liquid Capacity: 8 mL
Nicotine Strength: 5% (50 mg/mL)
6 Flavors:
Tropical Punch
Litchi Ice
Juicy Apple
Berry Fusion
Power Bull
Coffee Pump
The Flum GIO boasts a wide pen-style design encased in a durable silicone shell. This robust device provides an impressive 3000 puffs, ensuring you won't run out of vaping enjoyment anytime soon. It comes with an 8 mL nicotine salt e-liquid capacity, available in 5% nicotine strengths. With six tasty flavors to select from, including fruit and menthol options, the Flum GIO caters to diverse preferences. Like other Flum disposables, it features a non-rechargeable battery, making it a hassle-free choice for vapers.
3. Flum Pebble
Puff Count: 6000
E-liquid Capacity: 14 mL
Nicotine Strength: 5% (50 mg/mL)
Battery: Rechargeable 600 mAh
25 Flavors:
Berrymelon Icy
Blueberry Mint
Luscious Watermelon
Passion Kiwi
Spearmint
Strawberry Coconut
Strawmelon Apple
Aloe Grape
Apple
Apple Grapefruit
Arctic Icy
Blue Energy
Cherry Berry
Clear
Cool Mint
Mango Icy
Melo Ice Cream
Menthol
Passion Grape
Peach Orange
Straw Mango
Strawmelon
Vanilla Ice Cream
White Gummy
The Flum Pebble stands out with its box-style design and generous 6000 puffs, ensuring an extended vaping experience. It has a substantial 14 mL nicotine salt e-liquid reservoir with a 5% nicotine strength. What makes it even more appealing is its rechargeable 600 mAh battery, which can be conveniently charged using a USB-C cable. With an extensive lineup of over 25 flavors, including classics and exciting new creations, the Flum Pebble offers both longevity and flavor variety.
4. Flum Wafer
Puff Count: Approx. 1600
E-liquid Capacity: 5 mL
Nicotine Strength: 5% (50 mg/mL)
10 flavors:
Guava Ice
Banana Ice
Peach Ice
Pink Lemonade
Sour Apple
Aloe Pineapple Ice
Dragon Grape
Aloe Grape
Cool Mint
Lush Ice
The Flum Wafer introduces a unique circular design and approximately 1600 puffs, making it a standout in the disposable vape market. It contains 5 mL of e-juice infused with 5% (50 mg) salt nicotine. What sets it apart is the mouthwatering flavors it comes in, offering options like Guava Ice, Banana Ice, Peach Ice, and more. The Flum Wafer provides a delightful and extended vaping experience while maintaining the convenience of a disposable vape.
5. Flum Float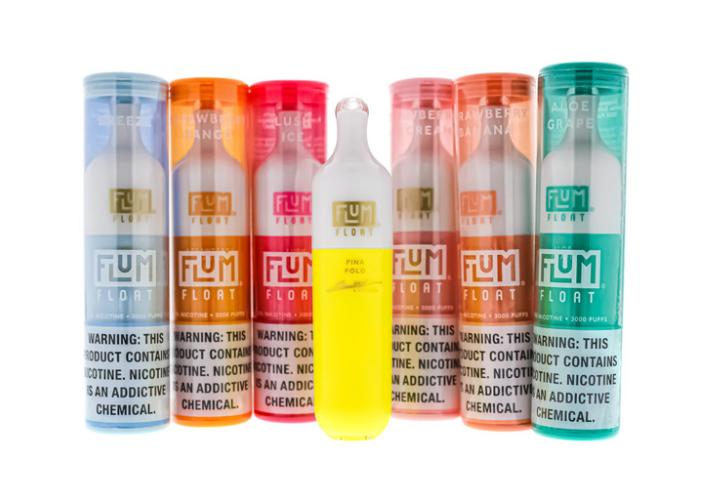 Puff Count: 3000
E-liquid Capacity: 8 mL
Nicotine Strength: 5% (50 mg/mL) / 0%
Popular flavors:
Aloe Grape
Aloe Pineapple Ice
Blue Raspberry Ice
Cool Mint
Cotton Candy
Lush Ice
Menthol
Mixed Berries
Peach Ice
Pina Polo
Red Bang
Strawberry Banana
Strawberry Ice Cream
Strawberry Mango
Rainbow Skittle
The Flum Float is a wide pen-style vape that offers an impressive 3000 puffs. It features an 8 mL 5% nicotine salt e-liquid capacity. With a staggering selection of over 30 flavors, some of which are available in a 0% nicotine version called Flum ZERO, the Flum Float caters to a diverse range of flavor preferences. Like other Flum disposables, it features a non-rechargeable battery, ensuring fuss-free vaping.
Why Choose Flum Disposable Vapes?
Flum has earned its reputation for delivering quality disposable vapes, and here's why many vapers choose them:
1. Rich Flavor Profiles
Flum is all about flavor. Their disposable vapes are known for their vibrant and authentic taste. Whether you crave the sweetness of ripe fruits, the chill of menthol, or a combination of both, Flum's got you covered.
2. Convenience and Portability
The single-use factor of Flum vapes makes them incredibly convenient. No need to worry about charging, refilling, or replacing coils. Just vape and enjoy.
3. High Nicotine Strength
For those who prefer a strong nicotine hit, Flum's 5% (50mg) salt nicotine concentration provides just that. It's ideal for smokers looking to switch to vaping or vapers who enjoy a potent nicotine experience.
Which Flum Disposable Vape is the Best?
With such a diverse range of Flum disposable vapes, you might be wondering which one stands out as the best. Well, the answer depends on your personal preferences.
For Compact Convenience: If you value a sleek, pen-style design and want a convenient, non-rechargeable option with a choice of 10 flavors, the Flum Mi could be your top pick.
For a Robust Experience: If you're after a wide pen-style device with a silicone shell, offering a substantial 3000 puffs and six delicious flavors, then the Flum GIO deserves your attention.
For Extended Enjoyment: If longevity is key for you, the Flum Pebble stands out with its rechargeable 600 mAh battery and an extensive flavor selection of over 25 options.
For a Unique Design: If you're looking for something different, the circular-shaped Flum Wafer with approximately 1600 puffs and 10 mouthwatering flavors could be your favorite.
For Flavor Variety: If you're all about choices, the wide pen-style Flum Float offers a whopping 3000 puffs with over 30 flavors, including a 0% nicotine version for some flavors.
Each Flum disposable vape has its strengths, so it ultimately comes down to your taste, style, and vaping preferences. Whichever you choose, you can count on Flum for rich flavors and convenient vaping.