Are you looking for a convenient and hassle-free vaping experience? The OXBAR G8000 Disposable is a popular choice among vaping enthusiasts. In this review, we will explore the features, performance, and overall user experience of the OXBAR G8000 Disposable. Whether you are a beginner or a seasoned vaper, this article will provide you with valuable insights into this product.
OXBAR G8000 Features
The OXBAR G8000 Disposable comes with several notable features that set it apart from other disposable vape devices on the market. Let's take a closer look at each of these features: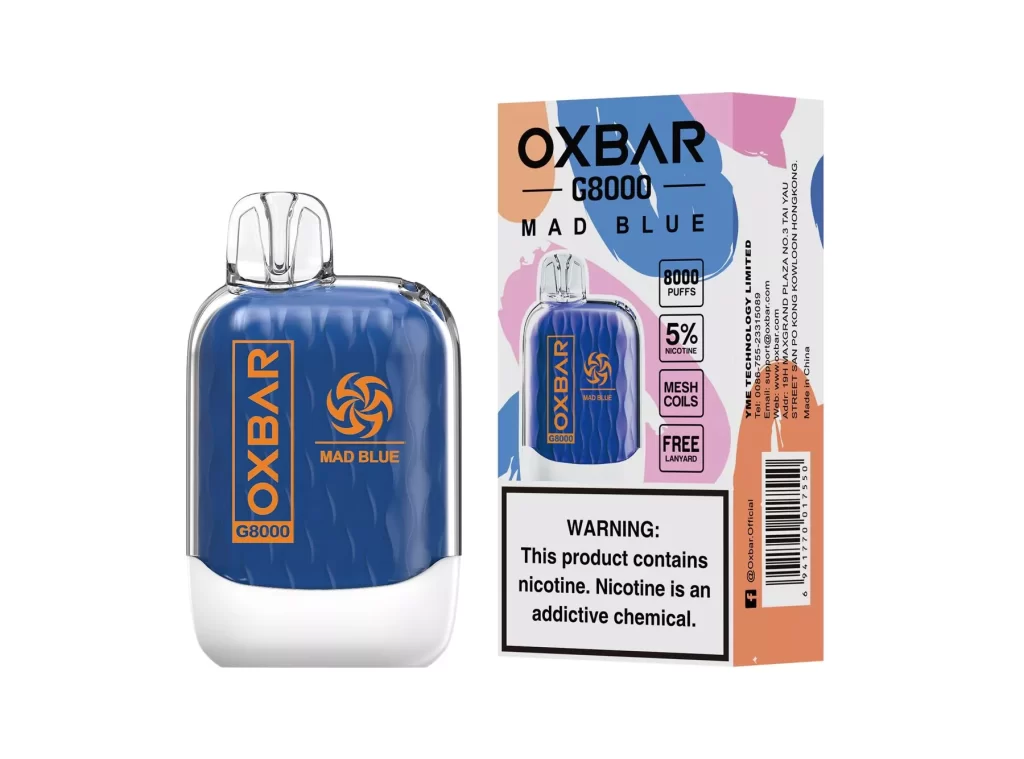 Prefilled Capacity: 16mL
The OXBAR G8000 boasts a generous prefilled e-liquid capacity of 16mL, ensuring that you can enjoy an extended vaping session without the need to refill frequently. This high capacity makes it a suitable option for users who are always on the go.
Battery Capacity: 650mAh
Equipped with a powerful 650mAh battery, the OXBAR G8000 offers long-lasting vaping sessions. The battery capacity is optimized to provide consistent power throughout your vaping experience, eliminating the need for frequent recharging.
Max Puffs: 8000 Puffs
One of the standout features of the OXBAR G8000 is its impressive maximum puff count of 8000 puffs. This means that you can enjoy a substantial amount of vaping without worrying about the device running out of battery or e-liquid.
Nicotine Strength: 5% (50mg)
The OXBAR G8000 Disposable comes with a nicotine strength of 5% (50mg), which provides a satisfying nicotine hit for users who are transitioning from traditional cigarettes. This level of nicotine strength ensures a smooth and fulfilling vaping experience. Operation: Draw-Activated
With its draw-activated operation, the OXBAR G8000 eliminates the need for any buttons or complicated settings. Simply inhale from the device, and it will automatically activate, delivering a seamless and user-friendly vaping experience.
Heating Element: 1.2ohm Mesh Coil
The OXBAR G8000 utilizes a 1.2ohm mesh coil as its heating element. This coil configuration ensures efficient heating and even distribution of heat, resulting in smooth and flavorful vapor production.
Charging: Type-C Port
To recharge the OXBAR G8000, simply connect it to a power source using the included Type-C charging cable. The Type-C port enables fast and efficient charging, ensuring minimal downtime between vaping sessions.
Performance and Vapor Production
When it comes to performance, the OXBAR G8000 does not disappoint. The combination of its powerful battery, high e-liquid capacity, and efficient heating element results in impressive vapor production and consistent flavor delivery. Whether you enjoy dense clouds or prefer a more discreet vaping experience, the OXBAR G8000 offers a versatile range of options to suit your preferences.
Flavor Options
The OXBAR G8000 is available in a variety of exciting flavor options, catering to different taste preferences. From refreshing fruit blends to classic tobacco flavors, there is a flavor for everyone. Explore the range of flavors available and discover your favorite combination.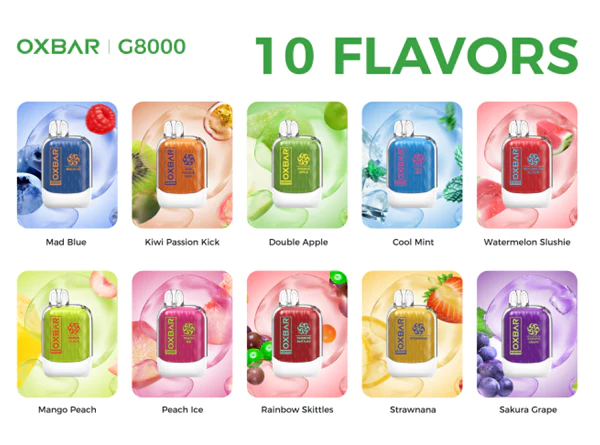 Flavors:
Cool Mint
Double Apple
Mad Blue
Kiwi Passion Kick
Mango Peach
Peach Ice
Rainbow Skittles
Sakura Grape
Strawnana
Watermelon Slushie
Conclusion
In conclusion, the OXBAR G8000 Disposable offers a convenient, reliable, and enjoyable vaping experience. With its impressive features, long-lasting battery, and high e-liquid capacity, this disposable vape device is a great choice for vapers of all levels. Whether you are new to vaping or a seasoned enthusiast, the OXBAR G8000 provides a satisfying and flavorful experience that is sure to please.