Breeze Pro is a disposable vape that is quickly gaining popularity among vapers. In this comprehensive guide, we will discuss everything you need to know about Breeze Pro, including its features, flavors, and overall performance.
Introduction to Breeze Pro
Breeze Pro is a disposable vape that provides an alternative to traditional smoking. This device is perfect for vapers who are always on the go and don't want to carry around bulky devices or deal with the hassle of refilling tanks or changing coils. With its sleek and compact design, Breeze Pro fits perfectly in your pocket or purse.
Breeze Pro Features
Breeze Pro boasts a range of features that make it a popular choice among vapers. These features include:
High Puff Count
The Breeze Pro has an impressive 2000-puff count, which is more than enough for most vapers. This means that you won't have to worry about running out of juice or charging your device frequently.
Large Capacity
Breeze Pro has a large 6 mL capacity, which means that you can enjoy longer vaping sessions without having to refill the device.
High Nicotine Concentration
Breeze Pro has a 5% salt nicotine concentration, which provides a satisfying throat hit and nicotine buzz.
Powerful Battery
Breeze Pro has a 1000 mAh battery that lasts longer than most disposable vapes on the market. This means that you can enjoy your favorite flavors for a longer period of time.
Lightweight Design
Breeze Pro is lightweight, weighing only 48g. This makes it easy to carry around and perfect for vapers who are always on the go.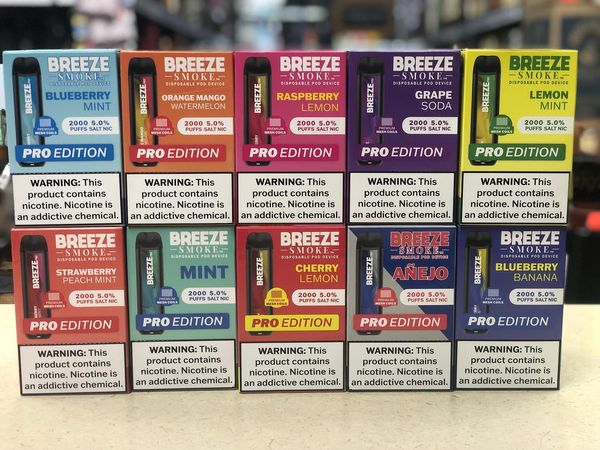 Breeze Pro Flavors
Breeze Pro is available in a range of flavors, including:
Anejo
Anejo is perfect for vapers who love energy drinks. This flavor is a perfect blend of sweet and tart that will keep you coming back for more.
Blueberry Banana
Blueberry Banana is a creamy and sweet flavor that combines the taste of ripe bananas and juicy blueberries.
Blueberry Mint
Blueberry Mint has a light and fruity flavor profile with an icy and sweet finish.
Cherry Lemon
Cherry Lemon is a refreshing flavor that combines the crispness of freshly sliced lemons with the sweetness of cherries.
Grape Soda
Grape Soda is a fruity and refreshing flavor that has a crisp effervescence finish.
Lemon Mint
Lemon Mint is a tart and fruity flavor with a minty finish. It's a perfect blend of sweetened mint and citrus.
Mint
Mint is a classic sweet mint flavor with ice cooling technology that provides a cool effect for the ultimate satisfaction.
Orange Mango Watermelon
Orange Mango Watermelon is a citrusy, sweet, and watermelon flavor that will awaken your taste buds.
Raspberry Lemon
Raspberry Lemon is a perfect fusion of sweet raspberry and tart lemon flavors.
Strawberry Peach Mint
Strawberry Peach Mint is a delicious and refreshing flavor that combines the sweetness of strawberries and peaches with a minty finish.
Breeze Pro Performance
Breeze Pro delivers an excellent vaping experience, with its high puff count, large capacity, and high nicotine concentration. The flavors are well-balanced, and the device produces a smooth and satisfying hit. The battery life is impressive, and the lightweight design makes it easy to carry around.
Conclusion
Overall, Breeze Pro is a great choice for vapers who are looking for a convenient and enjoyable vaping experience. With its impressive features, range of flavors, and excellent performance, Breeze Pro is definitely worth trying out.