Introduction: Embrace the Future of Vaping
Vaping has revolutionized the smoking industry, offering a safer and more flavorsome alternative to traditional cigarettes. The Airis Titan stands tall as a titan in the world of vaping, promising an exceptional experience for vape enthusiasts. In this comprehensive review, we will delve into the mesmerizing features, delightful flavors, and everything you need to know about the Airis Titan. So, let's embark on this vaping journey together!
Airis Titan: A Closer Look
The Airis Titan is a masterpiece engineered to provide a seamless vaping experience. It comes pre-filled with a generous 20mL of nicotine salts vape juice, eliminating the hassle of frequent refills. The 600mAh rechargeable battery is a force to be reckoned with, allowing you to enjoy a whopping 10,000 puffs per device before needing a recharge. Now that's longevity you can count on!
Flavors Galore: Exploring the Taste Sensations
The true essence of the Airis Titan lies in its delectable array of flavors. Each puff is a journey through delightful taste sensations that captivate the palate. Let's take a moment to savor some of the 15 mouth-watering flavors available: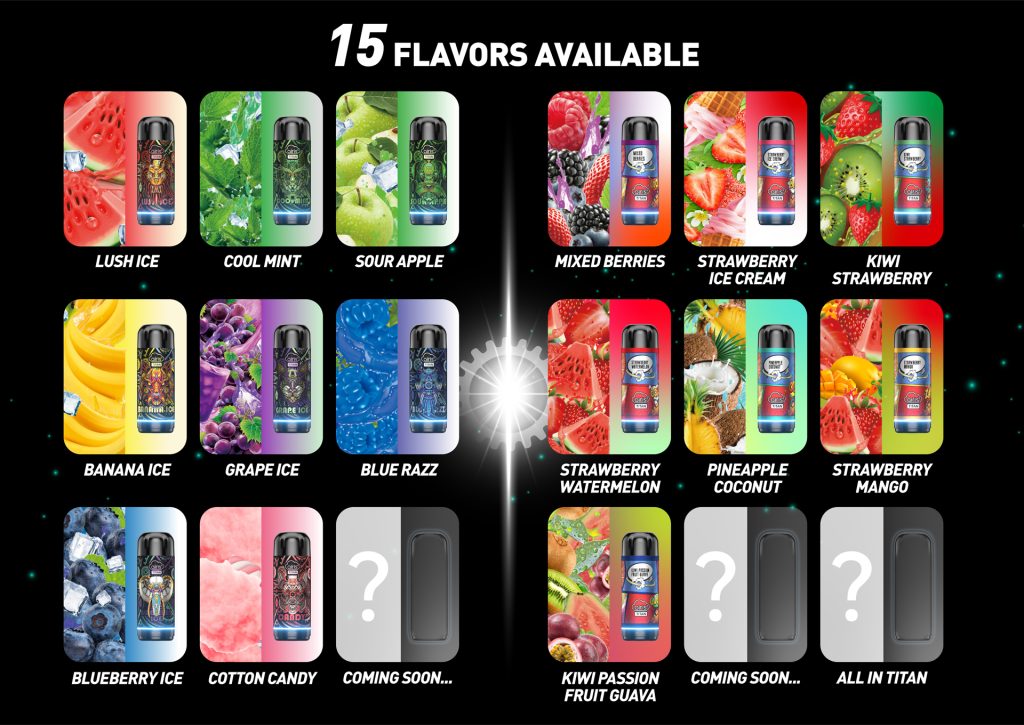 Strawberry Watermelon: A perfect blend of juicy strawberries and refreshing watermelon.
Mixed Berries: A medley of nature's finest berries, bursting with sweetness.
Cool Mint: A chilling, refreshing minty breeze that invigorates the senses.
Blueberry Ice: The succulent sweetness of blueberries with a cooling twist.
Blue Raz: A raspberry delight that will leave you craving for more.
Kiwi Strawberry: A tropical rendezvous of kiwi and strawberry goodness.
Sour Apple: A tangy green apple flavor that balances sourness and sweetness.
Lush Ice: Watermelon paired with icy coolness for a truly refreshing experience.
Banana Ice: Creamy bananas with a refreshing icy kick.
Grape Ice: Luscious grapes meet a frosty breeze, creating a delightful fusion.
Cotton Candy: Relive your childhood with the sugary delight of cotton candy.
Strawberry Ice Cream: A dreamy concoction of strawberries and creamy ice cream.
Pineapple Coconut: A tropical escape with the sweetness of pineapple and coconut.
Strawberry Mango: A tropical delight blending succulent strawberries and juicy mangoes.
Kiwi Passionfruit Guava: A burst of tropical flavors with kiwi, passionfruit, and guava.
Unleashing the Vaping Experience
The Airis Titan is more than just a vaping device; it's an experience. Its seamless functionality, tantalizing flavors, and long-lasting battery make it a true champion in the vaping world. Here's what sets it apart: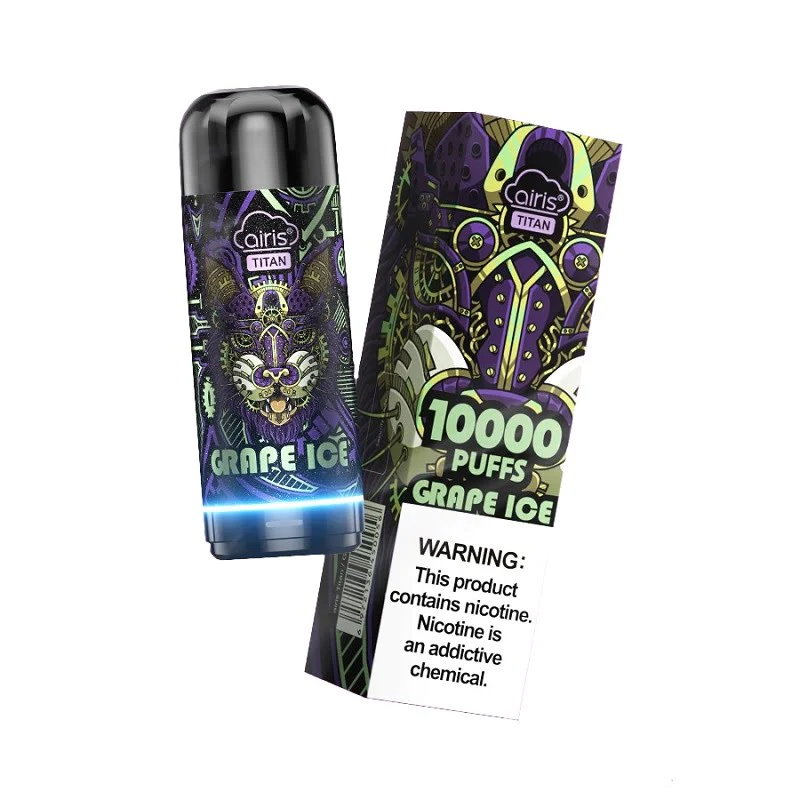 1. Massive Nicotine Salts Capacity
The Airis Titan boasts an impressive 20mL of pre-filled nicotine salts, ensuring you have an uninterrupted vaping experience without worrying about running out of juice. This means you can enjoy more puffs before having to replace the pod.
2. Endless Puffs with a Powerful Battery
The rechargeable 600mAh battery takes the vaping experience to a whole new level. With an incredible capacity, it delivers an astounding 10,000 puffs per device. Say goodbye to frequent charging and hello to an extended vaping journey.
3. Sleek and Portable Design
The Airis Titan's sleek and portable design makes it an ideal companion for vapers on the go. Slip it into your pocket or bag and enjoy vaping anywhere, anytime.
4. Effortless Operation
Designed for ease of use, the Airis Titan features a simple draw-activated firing mechanism. No buttons to press, no complicated settings—just draw and enjoy.
5. Rich, Flavorful Clouds
The Airis Titan's advanced technology ensures that every puff is filled with rich, flavorful clouds that tantalize your taste buds and provide a satisfying throat hit.
Conclusion: Elevate Your Vaping Experience with the Airis Titan!
In conclusion, the Airis Titan is a vaping marvel that delivers on its promises. With a colossal 10,000 puffs per device, mouth-watering flavors, and a user-friendly design, it has earned its place among the top vaping devices in the market. Embrace the future of vaping with the Airis Titan and indulge in a vaping experience like no other.