The world of vaping has witnessed a remarkable surge in popularity, with numerous options available to satisfy the needs of vape enthusiasts. One such option is the Airis NEO P8000 Disposable Vape, a cutting-edge device designed to deliver an exceptional vaping experience. In this comprehensive review, we will delve into the features, performance, and user feedback of the Airis NEO P8000, providing you with valuable insights to help you make an informed decision.
The Airis NEO P8000
The Airis NEO P8000 is a disposable vape that stands out from the competition due to its impressive features and functionalities. With a prefilled capacity of 20mL and a nicotine concentration of 5%, this device ensures long-lasting vaping sessions without the need for frequent refills. The inclusion of a 1.0ohm mesh coil further enhances the flavor delivery, resulting in a satisfying and enjoyable vape.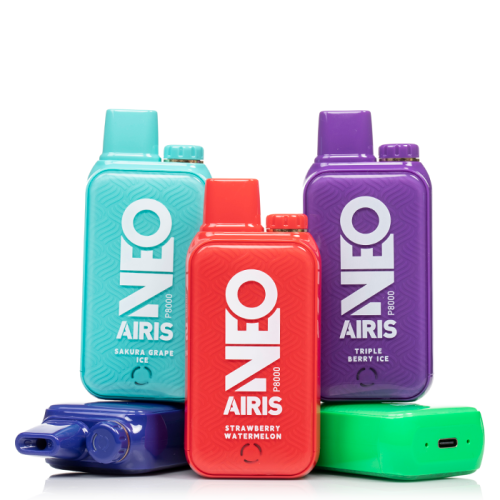 Design and Build Quality
When it comes to design and build quality, the Airis NEO P8000 excels in providing a sleek and ergonomic device. Its slim profile and lightweight construction make it easy to carry and use on the go. The device features a durable exterior that ensures it can withstand the rigors of daily use. Additionally, its intuitive design allows for hassle-free operation, making it suitable for both beginners and experienced vapers.
Performance and Vapor Production
The Airis NEO P8000 boasts impressive performance capabilities, delivering thick and flavorful vapor clouds. The 1.0ohm mesh coil, combined with the optimal airflow design, ensures smooth and consistent vapor production. Whether you prefer a mouth-to-lung or direct lung vaping style, this disposable vape caters to both preferences, providing a satisfying hit with every puff.
Flavor Selection
To cater to the diverse tastes of vapers, the Airis NEO P8000 offers a wide range of flavor options. From refreshing fruit blends to indulgent dessert flavors, there is something to suit every palate. Each flavor is carefully crafted to deliver an authentic and enjoyable vaping experience, allowing you to explore new and exciting tastes with ease.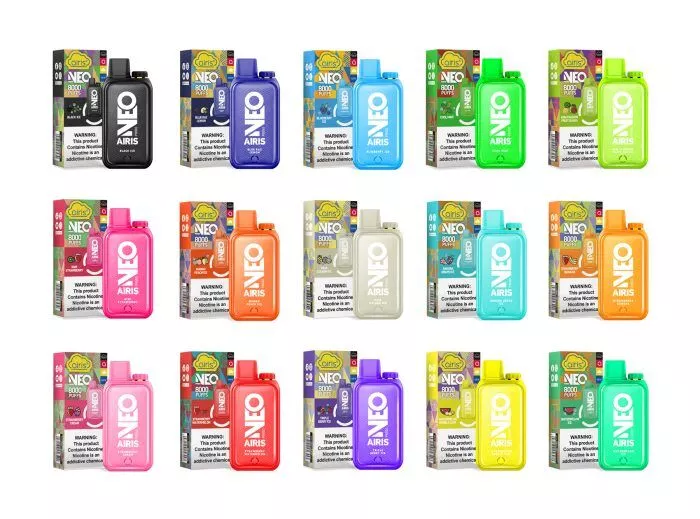 Black Ice
Blue Raz Lemon
Blueberry Ice
Cool Mint
Kiwi Passion Fruit Guava
Kiwi Strawberry
Mango Peach Ice
Pina Colada Ice
Sakura Grape Ice
Strawberry Banana
Strawberry Cream
Strawberry Watermelon
Triple Berry Ice
Watermelon Bubble Gum
Watermelon Ice
Battery Life and Charging
One of the standout features of the Airis NEO P8000 is its impressive battery life. With its high-capacity battery, this disposable vape can deliver up to 8000 puffs, ensuring long-lasting vaping sessions without the need for frequent recharging. When the battery eventually runs out, the disposable nature of the device allows for easy replacement, ensuring uninterrupted enjoyment.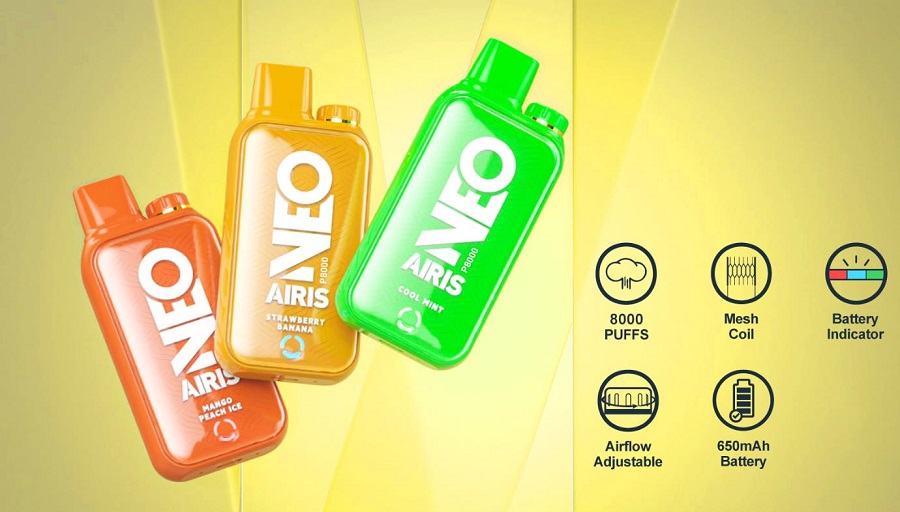 Ease of Use and Portability
The Airis NEO P8000 is designed with user convenience in mind. Its draw-activated mechanism eliminates the need for buttons, making it incredibly easy to use. Simply inhale from the mouthpiece, and the device will automatically activate, delivering a smooth and satisfying vape. Its compact and lightweight design makes it highly portable, fitting comfortably in your pocket or bag for vaping on the go.
User Reviews and Feedback
Users who have experienced the Airis NEO P8000 have expressed high levels of satisfaction with its performance, flavor delivery, and overall usability. Many have praised its long-lasting battery life and the variety of flavors available. Positive feedback indicates that the Airis NEO P8000 provides a reliable and enjoyable vaping experience.
Pros and Cons
Pros:
Long-lasting battery life for extended vaping sessions
Wide range of flavors to suit different preferences
Sleek and ergonomic design for easy handling
Impressive vapor production for a satisfying experience
User-friendly draw-activated mechanism
Cons:
Limited to disposable use, may not be cost-effective for frequent vapers
Lack of customization options compared to refillable devices
Conclusion
The Airis NEO P8000 Disposable Vape is a top-notch option for vapers looking for convenience, performance, and a wide range of flavor choices. With its long-lasting battery life, impressive vapor production, and user-friendly design, it offers a satisfying and enjoyable vaping experience. Whether you're a seasoned vaper or just starting your vaping journey, the Airis NEO P8000 is worth considering.